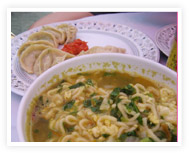 Food
We serve food from a wide variety of cuisines, including Indian, Chinese, Tibetan, Ladakhi and Continental. Generally we follow a fixed weekly menu and prepare a buffet table for our guests in our open-air rooftop restaurant. However, special requests may also be placed with us.
Communication
Our guests can make national and international phone calls at any time of the day, from the comfort of their own rooms. We also provide them with 24-hours e-mailing facilities in a room specially built for the purpose.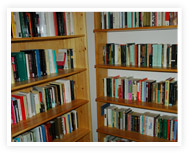 Library
Tired after a busy day in the market? Settle down and relax with a good book from our small but well stocked library. Apart from borrowing books for reading, guests may also avail of our special book-exchange services.
Chotkhang
Meditation Room: We have a small family chapel of the Tibetan Buddhist tradition in our home. Guests are welcome to use the room for meditating or knowing more about the religious life of Ladakh, if they so desire. Upon request, we can also arrange for a religious scholar to come and hold discussions with our guests in the Chotkhang.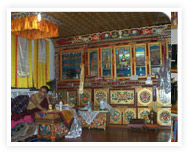 Doctor on Call
In the unfortunate event of a guest falling ill, we have a qualified physician available on call at all times of the day. While minor ailments such as altitude sickness are common and easily treated, we are prepared for handling more serious eventualities as well..
Other Services
All our guests can avail of our in-house laundry and dry cleaning services upon request. Cultural shows can also be arranged by us. Small purchases such as batteries, post cards and stamps can be made from the small shop that we run at our reception. Finally, guests need not worry erratic power cuts since we have our own generator.